Campaign Video
and you'll receive our popular
newsletter with latest news,
videos, commentary & more.
Help Us Spread The Word!
---

HELP US GO VIRAL!!!!
We no longer have the
luxury of time.


---
Who's Online
Guest Users: 10
Contact Us
email us
P.O. Box 1086
Crestone, CO 81131
---
---
---
---
---
---
Be a courageous
American and
inspire others to
take a stand by
signing the Pledge to VOTE
OUT ALL INCUMBENTS! PLEDGE TO NEVER REELECT!
Download the Free Uncle
Sam Poster
and hand them
out EVERYWHERE
NEW Campaign Business Cards
Download here!

Site Navigation
---
---
Home Page
Project Directory
Top Stories
Latest News
Site Help
Full Story Archives
---
---

Interviews
KTAO Organization Info
Project Info Only Index
5 Minute Audio Summary
Radio Interview
Nutshell Project Summary
Simple Two Step Plan
Full Project Summary
FAQs
Promo Videos
FREE Uncle Sam Poster
Banner Ads
Join or Start A Meetup Group
Media Inquiries
All Federal Incumbents
All State Incumbents
Kickem Community Forum
Take the KTAO Pledge
What People Are Saying
Bumper Stickers & More
Please Donate
---
It's Time To Listen
To Your Elders!
Topics
Police State/DHS/Big Brother (197)
Views: 1,242


Thailand's Tourism Authority says tourists can now travel "both day and night with safety at all times"
By Adan Salazar
Prison Planet.com
October 14, 2014
Rather than highlight its country's beautiful natural landscapes or its innumerable architecturally aesthetic structures, the government of Thailand is relying on its brutal law enforcement methods to entice travelers to visit the region.
The Tourism Authority of Thailand (TAT), a government organization, is poised to launch a campaign urging foreign travelers to experience a "martial law" holiday, arguing that tanks on its streets and men decked out in full military attire would make tourists feel safe 24/7, states a report published on Thai website Khaosod English.
"The TAT is preparing a campaign called '24 Hours Enjoy Thailand' to attract foreign tourists to visit Thailand under martial law," TAT Governor Thawatchai Arunyik told a local newspaper last week.
"We want the tourists to be confident that they can travel in Thailand both day and night with safety at all times," Thawatchai added.
Following a tense summer rocked by protests, the Royal Thai Army moved in to Bangkok and staged a coup d'etat, deposing its "democratically elected" leaders and imposing martial law.
Views: 1,104


By Julian Hattem
May 25, 2014
thehill.com
Four tech companies claim that the FBI is ignoring their First Amendment rights by barring them from revealing what types of information they turn over to the government.
In court documents unsealed on Friday, Google, Yahoo, Microsoft and Facebook claimed that the national security letter (NSL) orders are a "prohibition on speech [that] violates the First Amendment."
"The government has sought to participate in public debate over its use of the NSL statute," the companies wrote in a friend-of-the-court brief. "It should not be permitted to gag those best suited to offer an informed viewpoint in that debate; the parties that have received NSLs."
Views: 1,966


Despite standoff defeat, feds assert case will continue
Paul Joseph Watson
Prison Planet.com
April 14, 2014
Despite being forced to release hundreds of seized cattle after an astounding standoff on Saturday, the Bureau of Land Management has vowed to continue its pursuit of Cliven Bundy, asserting that no deal has been made to cease its case against the Nevada cattle rancher.
Amazing scenes unfolded on Saturday as Bundy supporters and cowboys on horseback faced off against armed BLM agents and police, demanding that hundreds of cattle seized by the BLM over a grazing rights dispute be released from a nearby corral.


Views: 2,803


By Stephen Lam
March 22, 2014
rt.com

As numerous law enforcement agencies across the United States begin enrolling large armored vehicles into the force, pockets of resistance are forming among some communities concerned with the trend.
According to a report by the Wall Street Journal, the federal government has been granting armored vehicles like BearCats to cities and towns since the World Trade Center attacks in 2001. Additionally, about 200 vehicles designed to survive landmines and other explosions have also been distributed across the country, with another 750 requests pending.
While some communities have welcomed such acquisitions amid increased concern over mass shootings, others have balked at the idea. As RT reported last year, residents in Salinas, California, flooded the Facebook page of their local police department after it obtained a heavily armored vehicle capable of withstanding rifle fire and minefield explosions.
"That vehicle is made for war," mentioned one commenter at the time. "Do not use my safety to justify that vehicle," another one wrote. "The Salinas Police Department is just a bunch of cowards that want to use that vehicle as intimidation and to terrorize the citizens of this city."
Views: 2,325


Mac Slavo
SHTFplan.com
February 5, 2014
While President Obama and Congressional members have made an effort to convince their constituents that the provisions in the National Defense Authorization Act will never be used against citizens of the United States, the fact is that the laws clearly allow for the detention, arrest and detainment of Americans without charge or trial.
The President attempted to assuage these fears of potential abuse of the law by including a signing statement promising he would never use the law against Americans, but the statement itself is non-binding, leaving the possibility of misuse wide open.
In the event of a declared national emergency or war, when fear and panic are running rampant, the President will, without a shadow of a doubt, implement whatever means necessary in order to control the populace and maintain order.
Detainment and interment will be at the top of the Department of Homeland Security's to-do list.
And if you have any doubts about this possibility then pay close attention to the words of U.S. Supreme Court Justice Antonin Scalia at a recent event where law students asked the judge about the internment of Japanese-Americans during World War II.



Views: 2,198





The Daily Sheeple
December 22, 2013



While everyone is distracted with the holiday festivities, Congress has been hard at work, screwing us over in the name of national security.

Yesterday the 2014 National Defense Authorization Act was fast-tracked through the Senate, with no time for discussion or amendments. And you know, its Christmastime, so they just passed it so that they could recess for the holidays. The new version of the NDAA has already been quietly passed by the House of Representatives.

It authorizes massive spending, including $527 billion in base defense spending for the current fiscal year, funding for the war in Afghanistan, and funding for nuclear weapons programs.

The indefinite detention allowed by the original NDAA is still here, and it's actually worse now, because there are provisions that will make it easier for the government to target those who disagree. Section 1071 outlines the creation of the "Conflict Records Research Center", where the unconstitutionally obtained information that the NSA has collected is compiled and shared with the Department of Defense. The information, called in the wording "captured records," can be anything from your phone records, emails, browsing history or posts on social media sites.
Views: 5,061


They look pretty annoyed, don't they?


And yes of course the police officer gets to decide whether he or she was annoyed.

The New York Senate has passed a bill making it illegal to "harass" a police officer by "any type of physical action" -- even action that does not otherwise constitute interference, obstruction or assault. Given that "obstruction" and "interference" are famously broad, it's hard to imagine what conduct the police and the NY Senate believe they need to control by statute, though there's a clue in the statutory language, which makes it a felony to "harass, annoy, or threaten a police officer while on duty."

In other words, if you cause any physical contact with a police officer, even unintentionally, even if the contact does not rise to the level of assault or obstruction or interference, you can be convicted of a felony and imprisoned if the officer can show that your conduct "annoyed" him. This is the kind of statute that seems calculated to allow the police and prosecutors to put people in jail for very long stretches (remember that 97% of people indicted for felonies in the USA plead guilty under threat of decades of prison should they fight and lose) just because they don't like them very much.
Views: 2,704


By Mike M. Ahlers
May 14, 2013
CNN
WASHINGTON (CNN) -- Washington notables broke ground on the future home of the Department of Homeland Security on Wednesday, symbolically starting construction on the biggest federal building project in the Washington area since the Pentagon 68 years ago.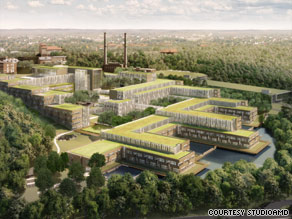 Rendering of future Coast Guard headquarters, with green roof designed to capture and reuse water.

The project will bring together more than 15,000 employees now scattered in 35 offices in the region, placing them on a 176-acre campus strewn with historic buildings in a long-neglected corner of Washington, five miles from the Capitol building.

Department leaders hope the $3.4 billion consolidation will help the department fulfill its core mission -- protecting the homeland -- in ways big and small.

"It will help us hold meetings," Secretary Janet Napolitano said. "It will help us build that culture of 'One DHS.'"

At the groundbreaking, political leaders shoveled dirt with care, but pitched historical references and metaphors with abandon.

"I do have a kind of paternalistic feeling towards DHS," said Sen. Joe Lieberman, I-Connecticut, an early advocate for creating the department. "I feel like we've finally given a home to this child we've created, which is finally reaching maturity."

Lieberman likened the creation of the department's headquarters to the creation of the Pentagon. Ground was broken on the Pentagon on September 11, 1941, exactly 60 years before the 2001 terrorist attacks, he noted.
Views: 7,385


Mike Adams
NaturalNews
March 13, 2013
In yet another stunning victory for the alternative media (InfoWars, Drudge Report, Natural News, WND, etc.), the story of the U.S. government stockpiling huge quantities of ammunition (1.6 billion rounds and counting) has finally broken through media censorship and gone mainstream.
Forbes.com contributor Ralph Benko recently wrote a piece calling for a "national conversation" on why the U.S. federal government would need to stockpile enough ammunition to wage a 20-year domestic war against the American people.
Remember, until this piece was published, the entire leftist media (NPR, MSNBC, CNN and countless leftist websites) all pretended these 1.6 billion bullets were imaginary and didn't exist. It was all a grand "conspiracy theory," we were told, and anyone who reported the truth on the government's ammo purchases was labeled a fringe lunatic.
As it turned out, the leftist media was delusional, because the numbers don't lie: The Department of Homeland Security really has purchased over 1.6 billion rounds of ammunition, thousands of full-auto assault rifles, and thousands of armored assault vehicles — all for use inside the United States, on the streets of America.
Why is the federal government arming up domestically?
The hardware build-up has been called a "domestic arms race," and it's starting to make even mainstream media journalists nervous. Benko writes that the 1.6 billion rounds of ammo being purchased by DHS represents "…a stockpile that would last DHS over a century. To claim that it's to "get a low price" for a ridiculously wasteful amount is an argument that could only fool a career civil servant."
Views: 3,158


Shock claim purported to come from "one of America's foremost military heroes"
By Paul Joseph Watson
Prison Planet.com
January 22, 2013
2009 Nobel Peace Prize nominee Jim Garrow shockingly claims he was told by a top military veteran that the Obama administration's "litmus test" for new military leaders is whether or not they will obey an order to fire on U.S. citizens.
Garrow was nominated three years ago for the prestigious Nobel Peace Prize and is the founder of The Pink Pagoda Girls, an organization dedicated to rescuing baby girls from "gendercide" in China. Garrow has been personally involved in "helping rescue more than 36,000 Chinese baby girls from death." He is a public figure, not an anonymous voice on the Internet, which makes his claim all the more disturbing.
"I have just been informed by a former senior military leader that Obama is using a new "litmus test" in determining who will stay and who must go in his military leaders. Get ready to explode folks. "The new litmus test of leadership in the military is if they will fire on US citizens or not". Those who will not are being removed," Garrow wrote on his Facebook page, later following up the post by adding the man who told him is, "one of America's foremost military heroes," whose goal in divulging the information was to "sound the alarm."
Please Make A One Time Donation
You can send a check
or money order to:
The KTAO Project
P.O. Box 1086
Crestone, CO 81131
or donate online:

Essential Reading
Declaration of Independence
The Constitution
The Bill of Rights
Citizen's Jury Handbook