Campaign Video
and you'll receive our popular
newsletter with latest news,
videos, commentary & more.
Help Us Spread The Word!
---

HELP US GO VIRAL!!!!
We no longer have the
luxury of time.


---
Who's Online
Guest Users: 7
Contact Us
email us
P.O. Box 1086
Crestone, CO 81131
---
---
---
---
---
---
Be a courageous
American and
inspire others to
take a stand by
signing the Pledge to VOTE
OUT ALL INCUMBENTS! PLEDGE TO NEVER REELECT!
Download the Free Uncle
Sam Poster
and hand them
out EVERYWHERE
NEW Campaign Business Cards
Download here!

Site Navigation
---
---
Home Page
Project Directory
Top Stories
Latest News
Site Help
Full Story Archives
---
---

Interviews
KTAO Organization Info
Project Info Only Index
5 Minute Audio Summary
Radio Interview
Nutshell Project Summary
Simple Two Step Plan
Full Project Summary
FAQs
Promo Videos
FREE Uncle Sam Poster
Banner Ads
Join or Start A Meetup Group
Media Inquiries
All Federal Incumbents
All State Incumbents
Kickem Community Forum
Take the KTAO Pledge
What People Are Saying
Bumper Stickers & More
Please Donate
---
It's Time To Listen
To Your Elders!



Views: 1,257





Most people don't know, that many orthodox jews oppose Israel and the occupation of Palestine. These orthodox jews believe Zionism endangers peace on earth. One of them is Rabbi Josef Antebi (born in Hebron), who was tortured by Zionists. This is an interview made in Amsterdam, the last day of Hanuka.





Views: 8,374





Published by Editor
October 20, 2013
TheAmericanMercury.org
TODAY MARKS THE 100th anniversary of the largest and most-well funded hate and defamation group in the history of mankind: the Anti-Defamation League, or "ADL." The organization was originally called the "Anti-Defamation League of B'nai B'rith" after its parent group, the Jewish fraternal order B'nai B'rith (meaning "Sons of the Covenant," or, literally, "Sons of the Cut" — referring to circumcision). (ILLUSTRATION: Abraham Foxman, director of the ADL)
The ADL was founded in the immediate aftermath of the conviction of Atlanta B'nai B'rith President Leo Frank for the strangulation and sex murder of a 13-year-old factory girl, Mary Phagan. The international Jewish community did not believe that Frank should have been convicted. They had mounted a huge press, publicity, legal, and lobbying campaign to convince officials and the public that a Black man, James Conley, was the real killer. But the evidence against Frank was so strong — and the evidence against Conley so thin — that the Southern, all White, and doubtless philo-Semitic (like most of the Christian South) jury unanimously convicted Leo Frank and sentenced him to hang. Two months after Frank's conviction, on October 20, 1913, the ADL was formed. To this day, the ADL and its allies promote the fiction that Frank's conviction was a result of "anti-Semitism" and use the case a rallying cry to garner support and funding.



Views: 9,258





Miko Peled is the son of General Matti Peled, who was a leader in the 1967 war who also fought in the War of Independence in 1948. Like his father, Peled is an advocate for an end to the occupation of Palestine. As an Israeli, he offers an insider's perspective on just how far Israel has strayed from its democratic principles, and how it has created a society marred by racism and indifference to the suffering of others. His observations are now collected in a book, "The General's Son: The Journey of an Israeli in Palestine." In this segment, Miko Peled tells of his experiences as a young soldier in the Israeli army. He describes a confrontation with the same army on a recent visit to Israel and the West Bank.





Views: 1,908





By Patrick B. Pexton
Washington Post
August 31, 2012



Readers periodically ask me some variation on this question: "Why does the press follow every jot and tittle of Iran's nuclear program, but we never see any stories about Israel's nuclear weapons capability?"

It's a fair question. Going back 10 years into Post archives, I could not find any in-depth reporting on Israeli nuclear capabilities, although national security writer Walter Pincus has touched on it many times in his articles and columns.

I spoke with several experts in the nuclear and nonproliferation fields , and they say that the lack of reporting on Israel's nuclear weapons is real — and frustrating. There are some obvious reasons for this, and others that are not so obvious.

First, Israel refuses to acknowledge publicly that it has nuclear weapons. The U.S. government also officially does not acknowledge the existence of such a program. Israel's official position, as reiterated by Aaron Sagui, spokesman for the Israeli Embassy here, is that "Israel will not be the first country to introduce nuclear weapons into the Middle East. Israel supports a Middle East free of all weapons of mass destruction following the attainment of peace." The "introduce" language is purposefully vague, but experts say it means that Israel will not openly test a weapon or declare publicly that it has one.

According to Avner Cohen, a professor at the Monterey Institute of International Studies in California who has written two books about this subject, this formulation was born in the mid-1960s in Israel and was the foundation of a still-secret 1969 agreement between Israeli Prime Minister Golda Meir and President Richard Nixon, reached when the United States became sure that Israel possessed nuclear bombs.

President John Kennedy vigorously tried to prevent Israel from obtaining the bomb; President Lyndon Johnson did so to a much lesser extent. But once it was a done deal, Nixon and every president since has not pressed Israel to officially disclose its capabilities or to sign the Non-Proliferation Treaty. In return, Israel agrees to keep its nuclear weapons unacknowledged and low-profile.

Because Israel has not signed the treaty, it is under no legal obligation to submit its major nuclear facility at Dimona to International Atomic Energy Agency (IAEA) inspections. Iran, in contrast, did sign the treaty and thus agrees to periodic inspections. IAEA inspectors are regularly in Iran, but the core of the current dispute is that Tehran is not letting them have unfettered access to all of the country's nuclear installations.
Views: 1,046


By Amy Teibel
AP - Yahoo News
March 19, 2012

JERUSALEM (AP) — Despite saber-rattling from Jerusalem, Israeli officials now agree with the U.S. assessment that Tehran has not yet decided on the actual construction of a nuclear bomb, according to senior Israeli government and defense figures.
Even so, there is great concern in Israel about leaving Iran "on the cusp" of a bomb — explaining why Israel continues to hint at a military attack on Iran's nuclear installations before it moves enough of them underground to protect them from Israel's bombs.
Israel's leaders have been charging in no uncertain terms for years that Iran is trying to build nuclear weapons. Though officials say they accept the more nuanced American view, they warn that it is just a matter of semantics, because an Iran on the verge of being able to build a bomb would still be a danger.
The United States is playing up its assessment that Iran has not made its final decision in a public campaign to persuade Israel to call off any attack plan and allow the increasingly harsh sanctions against Iran time to persuade Tehran to back down.
Views: 1,170


By Pete Papaherakles
moneytrendsresearch.com
March 8, 2012

Could gaining control of the Central Bank of the Islamic Republic of Iran (CBI) be one of the main reasons that Iran is being targeted by Western and Israeli powers? As tensions are building up for an unthinkable war with Iran, it is worth exploring Iran's banking system compared to its U.S., British and Israeli counterparts.
Some researchers are pointing out that Iran is one of only three countries left in the world whose central bank is not under Rothschild control. Before 9-11 there were reportedly seven: Afghanistan, Iraq, Sudan, Libya, Cuba, North Korea and Iran. By 2003, however, Afghanistan and Iraq were swallowed up by the Rothschild octopus, and by 2011 Sudan and Libya were also gone. In Libya, a Rothschild bank was established in Benghazi while the country was still at war.
Views: 17,693


There are 25,000 Jews living in Iran. When Israel backed a plan to pay Iranian Jewish families $60,000 to settle in Israel, Society of Iranian Jews met the announcement with scorn, issuing this statement: "The identity of Iranian Jews is not tradable for any amount of money. Iranian Jews are among the most ancient Iranians. Iran's Jews love their Iranian identity and their culture, so threats and this immature political enticement will not achieve their aim of wiping out the identity of Iranian Jews."



Jews In Iran Part 1‪








Views: 1,212





By Stephen Lendman
Rense.com
January 30, 2012

On January 23, Occupy AIPAC announced plans to confront the powerful Israeli Lobby in Washington from March 2 - 6. More on what's planned below.

Since last September, OWS inspired affiliate groups. Among others they include Occupy Together, Occupy Everything, Occupy Arrests, Occupy Police, Occupy Marines, Occupy Veterans, Occupy Writers, Occupy Filmakers, Occupy Schools, Occupy the World Wide Web, Occupy Freedom, Occupy NATO, Occupy Congress, Occupy the White House, and Occupy Your State Capital America.

Many communicate online through social networks like Facebook. They spread information globally and hopefully inspire others to join a worldwide movement for change.

From March 4 - 6, AIPAC will hold its annual Washington conference. Deferentially, politicians, presidents, their hangers-on, media scoundrels and others show up to pay homage to its influence and the government it represents.

AIPAC's an unregistered foreign agent. Calling itself "America's Pro-Israel Lobby," it's represented Israeli interests since founded in 1953. In 1963, it was incorporated as a division of the American Zionist Council (AZC), its precursor.
Views: 4,784


The last ten years are just preparatory to the wars that are coming. The story of how the US is being drawn to its demise so that Israel can take over.





‪Sheik Imran Hosein - Israel Takes the US to its End - Part 1‬




Views: 1,228






"A cardinal technique of the fifth column is the infiltration of sympathizers into the entire fabric of the nation under attack and, particularly, into positions of policy decision and national defense." -- Encyclopedia Britannica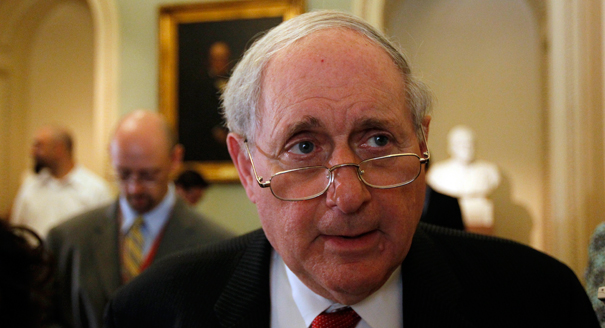 Israeli dual citizen Carl Levin (left) has suspended the civil rights of Americans,
another step to establishing a Zionist (Illuminati) police state in the once "land of the free."



By Richard Evans
January 12, 2012
henrymakow.com


What if US Senators and heads of national security agencies were found to have sworn oaths of loyalty to Iran or China?

The bill Obama signed into law on December 31st called the Indefinite Detention Bill, now called the National Defense Act of 2012, which suspends habeas corpus protection of US civilian citizens in their own country at the behest of that bastard child of false flag 911 - Homeland Security - was authored and presented by Michigan Senator Carl Levin. Senator Levin holds dual citizenship as an Israeli.

"What's wrong with that? Israel is our Ally", most Americans would say. I used to believe that. But the history of US/Israeli relations relative to Israeli relations with other nations tells another story.

Israeli foreign policy has a history of covert operations directly counter to the national interests and domestic welfare of the United States dating back to 1961.

This is conflict of interest. Conflict of interest occurs when an individual or organization in a position of public trust is involved in multiple interests, one of which could possibly corrupt the motivation for an act in the other. Questioning dual citizenship of elected officials is in no way antisemitism. The issue is conflict of interest pure and simple.
Please Make A One Time Donation
You can send a check
or money order to:
The KTAO Project
P.O. Box 1086
Crestone, CO 81131
or donate online:

Essential Reading
Declaration of Independence
The Constitution
The Bill of Rights
Citizen's Jury Handbook