Campaign Video
and you'll receive our popular
newsletter with latest news,
videos, commentary & more.
Help Us Spread The Word!
---

HELP US GO VIRAL!!!!
We no longer have the
luxury of time.


---
Who's Online
Guest Users: 9
Contact Us
email us
P.O. Box 1086
Crestone, CO 81131
---
---
---
---
---
---
Be a courageous
American and
inspire others to
take a stand by
signing the Pledge to VOTE
OUT ALL INCUMBENTS! PLEDGE TO NEVER REELECT!
Download the Free Uncle
Sam Poster
and hand them
out EVERYWHERE
NEW Campaign Business Cards
Download here!

Site Navigation
---
---
Home Page
Project Directory
Top Stories
Latest News
Site Help
Full Story Archives
---
---

Interviews
KTAO Organization Info
Project Info Only Index
5 Minute Audio Summary
Radio Interview
Nutshell Project Summary
Simple Two Step Plan
Full Project Summary
FAQs
Promo Videos
FREE Uncle Sam Poster
Banner Ads
Join or Start A Meetup Group
Media Inquiries
All Federal Incumbents
All State Incumbents
Kickem Community Forum
Take the KTAO Pledge
What People Are Saying
Bumper Stickers & More
Please Donate
---
It's Time To Listen
To Your Elders!
Topics
Chemtrails/Weather Modification (24)
Views: 16,086


by J. Marvin Herndon, Ph.D.
August 20, 2015
myeclinik.com

A peer reviewed, court admissible scientific evidence of the deliberate annihilation of the global population has been released to the public by a very prominent scientist. This explosive revelation was made through the peer reviewed International Journal of Environmental Research and Public Health.
This would mean that any interested party can file a class suit against government agencies and private entities authorizing and performing chemtrail operations around the globe, most especially in America and its allied countries.
The days of highly intoxicated pro-chemtrail trolls are officially over.
Coal Fly Ash Used In Chemtrail Aerosols: Geophysicist Produces Conclusive Evidence
Evidence of Toxic Coal-Fly-Ash and Chemical Geoengineering in the Troposphere: Consequences for Public Health
by J. Marvin Herndon, Ph.D.
Peer-Reviewed, Court-Admissible, Scientific Research Paper Published Exposing Geoengineering
Scientific evidence now exists which indicates the presence of "toxic coal combustion fly ash" in the Earth's atmosphere. The following abstract excerpt comes from a peer-reviewed paper recently published in the August 11th issue of the International Journal of Environmental Research and Public Health under the title:
[Click here to download research paper by J. Marvin Herndon, Ph.D. ]
"The widespread, intentional and increasingly frequent chemical emplacement in the troposphere has gone unidentified and unremarked in the scientific literature for years. The author presents evidence that toxic coal combustion fly ash is the most likely aerosolized particulate sprayed by tanker-jets for geoengineering, weather-modification and climate-modification purposes and describes some of the multifold consequences on public health." [1]



Views: 1,301





Posted December 8, 2014

This video presentation was done in Northern California on November 21st, 2014, it is a wake up call. When the ship is going down, one must prioritize their time, their actions, and their energy. The planet is dying. Though there are countless forms of damage to Earth from human activities, climate engineering is mathematically the greatest single source, it is the epitome of human insanity. Our society has been very well trained to turn two blind eyes to the big picture, and to simply spend their time and energies only on their own pursuit of personal pleasures. If this paradigm is not overturned, and people do not choose to stand and face the challenges closing in on us, we will have no chance. Now is when we decide why we are here. Now is when we decide what it means to show our love for our children. If life on Earth is to have any possibility of survival, if our children are to have any chance of a future, we must all stand together in the battle to preserve what life is left on our once thriving planet. If we do not act today, we will not have tomorrow.





Views: 1,259





Posted October 23, 2014

The western US is under an all out climate engineering assault, California most of all. The Weather Makers can shut the hydrological cycle off from the once "golden state" for as long as they wish. Satellite images and NOAA maps shown in this presentation are shocking and revealing to say the least. Whatever one wishes to consider as the agenda of those in power, one conclusion is certain, the drought in California is a direct result of the ongoing climate engineering insanity. Weather warfare is now being waged on the American population. Dane Wigington






Views: 1,538





The Millennium Report
September 25, 2014
Unprecedented Global March Against Chemtrails And Geoengineering: September 27, 2014
COMING TO A CITY NEAR YOU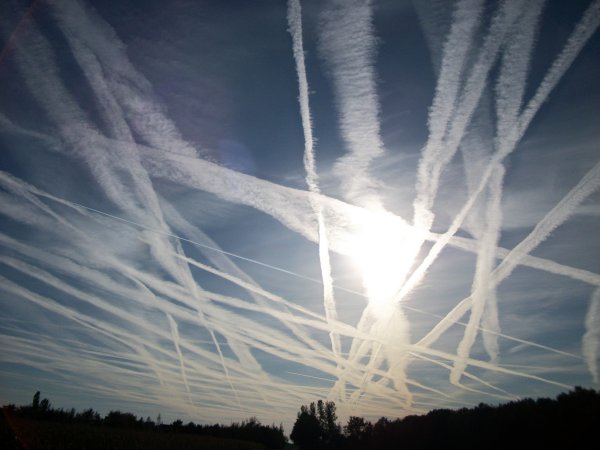 GLOBAL MARCH TO END
CHEMTRAILS AND GEOENGINEERING
On September 27, 2014

It's true, there are countless environmental assaults taking place across the planet at this very moment.
However, there is only one that is occurring 24/7 virtually everywhere around the globe.
Geoengineering through the utilization of chemtrail technology is now ubiquitous and unrelenting. If ever there was a threat to the entire biosphere, chemtrailing the skies worldwide is it. Many have now awakened to the fact that this dangerous practice of atmospheric engineering poses a threat to the planetary civilization.
Even those nations which do not permit chemtrails are still vulnerable to their toxic and sun-blocking effects. How so?
The winds, which have no respect for borders, invariably move chemtrail clouds across the sky and national boundaries alike. Hence, we see that those countries which allow chemtrails are poisoning the skies of their neighbors which prohibit them.
What In The World Are They Spraying?
In this way the offending nations are committing chemical assault and chemical trespass against populations and countries both large and small. It is now time for those nations to be held accountable their unlawful and harmful behavior.
Why In The World Are They Spraying?
Those nations which promote this type of geoengineering do NOT own the skies. They have no right to poison the skies anywhere, especially of those lands which have outlawed or terminated the pernicious practice universally known as sky chemtrailing.
Views: 1,299


By Susan Duclos
ZenGardener.com
May 16, 2014

While HAARP and weather control has been called a conspiracy theory by the mainstream media and government officials, during a Senate hearing on Wednesday, David Walker, deputy assistant secretary of the Air Force for science, technology and engineering,
dropped a bombshell
in answer to a question asked by Lisa Murkowski in relation to the dismantling of the $300 million High Frequency Active Auroral Research Program in Gakona this summer.
Walker said this is "not an area that we have any need for in the future" and it would not be a good use of Air Force research funds to keep HAARP going. "We're moving on to other ways of managing the ionosphere, which the HAARP was really designed to do," he said. "To inject energy into the ionosphere to be able to actually control it. But that work has been completed."
Many believe HAARP was created and has been used for weather control, with enough juice to trigger hurricanes, tornadoes and earthquakes and comments such as this bring about the question of whether conspiracy theorists are more on target than anyone has admitted to date.
This is not the first time a public official has acknowledged that HAARP and weather control is not only possible, but has been and continues to be, used as a "super weapon," as evidenced by a statement in 1997 by former U.S. Defense Secretary William Cohen, where he said "Others [terrorists] are engaging even in an eco-type of terrorism whereby they can alter the climate, set off earthquakes, volcanoes remotely through the use of electromagnetic waves… So there are plenty of ingenious minds out there that are at work finding ways in which they can wreak terror upon other nations…It's real, and that's the reason why we have to intensify our [counterterrorism] efforts."
Is it still just a conspiracy theory if public officials admit it is true?
Watch the question and answer session below:



Views: 10,891





GeoEngineeringWatch.org
June 30, 2013

In this video, Dane Wigington gives a presentation in Northern California on the harmful effects of Geoengineering, declaring that there is no more critical topic today. The very essentials needed to sustain life on earth are being recklessly destroyed by these programs. This is not a topic that will begin to affect us in several years, but is now already causing massive animal and plant die off around the world, as well as human illness.






Views: 5,057





You can actually see the clouds form out of thin air. You can actually see the effects the chemtrails dispersed and clouds immediately formed.


Views: 3,061


By Jonathan Benson
Natural News
Oct 7, 2012
Those long, white streams of persistent, cloudy haze commonly blasted into blue skies by unmarked airplanes are not your typical contrails, says Swedish Green Party leader Pernilla Hagberg. As reported by the Swedish paper Katrineholms Kuriren, Hagberg, the first major political leader to come forward on the issue, has openly admitted that these unusual cloud trails, which fail to dissipate like normal contrails do, are actually a toxic mix of chemicals, viruses, and metals that she has collectively referred to as "chemtrails."
According to Hagberg, the sprayings are a joint endeavor by the U.S. Central Intelligence Agency (CIA) and the U.S. National Security Agency (NSA), as well as the Swedish government in her own country, to modify atmospheric conditions via deliberate aerosol spraying efforts. And included in this "dangerous" mix of aerosols are various chemical components, viruses and viral fragments, and metals such as aluminum and barium, which have already been shown to be accumulating in water supplies and soils around the world. (http://chemtrails.cc/)
Normal contrails, which are composed of mere water vapor that quickly dissipates after emission from jet engines, are far different from chemtrails, which gradually blanket the entire sky in a sea of white. The following video, put together by the FreeTruth Show, a YouTube-based radio broadcast, contains some imagery of what these chemtrails typically look like in the sky:
http://www.youtube.com/watch?v=AykLfHtM_3M&feature=youtu.be
"It is great to see a politician bringing public attention to this issue and helping add to the credibility of this cause in the mainstream," writes JG Vibes for The Intel Hub about Hagberg's unprecedented public admission. "Unfortunately, this is a political problem that requires many non-political solutions."



Views: 2,038





Skywatcher is a 25-minute science documentary. In this movie, we discuss weather modification and the REAL cause of climate change, which is anthropogenic CLOUD cover-- not other greenhouse gases like CO2-- and the spraying of "cloud seeding" chemicals (especially silver iodide) for precipitation enhancement. This documentary explains exactly HOW we make clouds with aircraft, why there are visible chemtrails in the sky now, and why we're finding high levels of metals in our water and soil, including aluminum and strontium. ...you sure you want the truth? Be amazed. Pass it on.


Views: 2,093


"If we could experiment with the atmosphere and literally play God, it's very tempting to a scientist."



By Michael Edwards
Activist Post
On a secluded estate in England, a small group from the elite UK think-tank, The Royal Society, are openly discussing control over the planet's weather. The Orwellian nature of the discussion is stunning, as this select group seemingly wrings their hands over how to delegate the proper authority to research such godlike power. They begin by asking a rhetorical question, "Who decides?"
In a candid AP story, the entire agenda is laid bare as we are treated to a session that is "generally off the record." This is the grand rollout to be sure: from research to implementation, they announce much of what is already provably in the works, as well as the road toward a future of unthinkable control by an inner circle of ideologues with the task to "save the planet."
History is full of these great "experts" who have taken on the burden of saving the rest of us. Elites throughout the ages have insisted that the common man or woman is simply not up to the task . . . if left to our own devices, we might just destroy the place. So, let's first recap how these elite thinkers have done so far based on the key indicators of human prosperity.
Peace: The "peace process" is apparently a long one. Since the War To End All Wars, there has been a steady string of significant wars, protracted conflicts, or "kinetic actions." The central planners have failed fantastically when it comes to peace, and there is no sign of this trend reversing, as it openly has been announced that a Nobel Peace Prize can be given to the leader of the free world who has extended and declared wars that are unconstitutional and morally reprehensible. Rather, events are demonstrably leading straight to World War III. It seems like we would be better off without the humanitarian aid offered by such peaceniks.
Please Make A One Time Donation
You can send a check
or money order to:
The KTAO Project
P.O. Box 1086
Crestone, CO 81131
or donate online:

Essential Reading
Declaration of Independence
The Constitution
The Bill of Rights
Citizen's Jury Handbook