Campaign Video
and you'll receive our popular
newsletter with latest news,
videos, commentary & more.
Help Us Spread The Word!
---

HELP US GO VIRAL!!!!
We no longer have the
luxury of time.


---
Who's Online
Guest Users: 10
Contact Us
email us
P.O. Box 1086
Crestone, CO 81131
---
---
---
---
---
---
Be a courageous
American and
inspire others to
take a stand by
signing the Pledge to VOTE
OUT ALL INCUMBENTS! PLEDGE TO NEVER REELECT!
Download the Free Uncle
Sam Poster
and hand them
out EVERYWHERE
NEW Campaign Business Cards
Download here!

Site Navigation
---
---
Home Page
Project Directory
Top Stories
Latest News
Site Help
Full Story Archives
---
---

Interviews
KTAO Organization Info
Project Info Only Index
5 Minute Audio Summary
Radio Interview
Nutshell Project Summary
Simple Two Step Plan
Full Project Summary
FAQs
Promo Videos
FREE Uncle Sam Poster
Banner Ads
Join or Start A Meetup Group
Media Inquiries
All Federal Incumbents
All State Incumbents
Kickem Community Forum
Take the KTAO Pledge
What People Are Saying
Bumper Stickers & More
Please Donate
---
It's Time To Listen
To Your Elders!
Views: 741


February 3, 2016

By Paul Craig Roberts
paulcraigroberts.org
"This conjunction of an immense military establishment and a large arms industry is new in the American experience. The total influence — economic, political, even spiritual — is felt in every city, every statehouse, every office of the federal government. We recognize the imperative need for this development. Yet we must not fail to comprehend its grave implications. Our toil, resources and livelihood are all involved; so is the very structure of our society. In the councils of government, we must guard against the acquisition of unwarranted influence, whether sought or unsought, by the military–industrial complex. The potential for the disastrous rise of misplaced power exists, and will persist. We must never let the weight of this combination endanger our liberties or democratic processes. We should take nothing for granted. Only an alert and knowledgeable citizenry can compel the proper meshing of the huge industrial and military machinery of defense with our peaceful methods and goals so that security and liberty may prosper together." — President Dwight D. Eisenhower
Dwight D. Eisenhower was a five-star general in charge of the Normandy Invasion and a popular two-term President of the United States. Today he would be called a "conspiracy theorist."
Were Ike to be issuing his warning from the White House today, conservative Republicans like Senators Lindsey Graham (R-SC) and Marco Rubio (R-FL) would be screaming at Ike for impugning the motives of "the patriotic industry that protects our freedom."
Neoconservatives such as William Kristol would be demanding to know why President Eisenhower was issuing warnings about our own military-industrial complex instead of warning about the threat presented by the Soviet military.
The presstitute media would be implying that Ike was going a bit senile in his old age, a tactic the presstitutes used against President Reagan as he struggled to end stagflation and the Cold War.
By January 17, 1961, when Eisenhower issued his warning in his farewell address to the American People, it was already too late. Cold Warriors had had their hooks into the American taxpayer for 15 years after the end of WW II, and the military-industrial complex had replaced "mom and apple pie" as the most venerated and entrenched US interest. The Dulles brothers ran the State Department and CIA and overthrew governments at will. (Read The Brothers http://www.amazon.com/Brothers-Foster-Dulles-Allen-Secret/dp/1250053129/ref=sr_1_1?s=books&ie=UTF8&qid=1454270231&sr=1-1&keywords=The+Brothers )
The military-industrial complex had learned that regardless of the protestations of high-ranking military officers, no cost-overrun, no matter how egregious, went unpaid. Armaments industries and military bases were spread all over the country and were important considerations for every senator and many congressional districts. The chairmen of House and Senate military appropriations subcommittees and armed services committees were already dependent on campaign contributions from the military-industrial complex and for cushy jobs should they lose an election.



Views: 655





By Paul Craig Roberts
October 3, 2015
PaulCraigRoberts.org




"We can no longer tolerate the state of affairs in the world."
President Vladimir Putin

Last Wednesday (28 Sept 2015) the world saw the difference between Russia and Washington. Putin's approach is truth-based; Obama's is vain boasts and lies, and Obama is running out of lies.

By telling the truth at a time of universal deceit, Putin committed a revolutionary act. Referring to the slaughter, destruction, and chaos that Washington has brought to the Middle East, North Africa, and Ukraine, and the extreme jihadist forces that have been unleashed, Putin asked Washington: "Do you realize what you have done?"

Putin's question reminds me of the question Joseph Welch asked witch-hunting Senator Joseph McCarthy: "Have you no sense of decency?" Welch's question is attributed with initiating the decline of McCarthy's career.

Perhaps Putin's question will have the same impact and bring the reign of "American Exceptionalism" to an end.

If so, Putin has launched a revolution that will overthrow the world's subservience to Washington.

Putin stresses the legality of Russia's intervention in Syria, which is at the request of the Syrian government. He contrasts Russia's respect for international law with the intervention in Syria of Washington and France, governments that are violating Syria's sovereignty with unrequested and illegal military action.

The world sees that it is Washington and its vassals who "violate international norms" and not Russia.

The sanctimonious self-righteousness, behind which hides Washington's self-serving unilateral actions, is revealed for all to see.

Washington relies on its arsenal of lies. Washington's media-based disinformation apparatus was too hot to trot. Just as the BBC's TV reporter announced the premature destruction of World Trade Center Building 7 with the building clearly still standing in the background, Washington's lie service announced the first civilian casualties of Russian air strikes "even before our planes got in the air," noted President Putin in his comments on Washington's disinformation warfare.

As a consequence of their subservience to Washington, the puppet states of Europe are being overrun by refugees from Washington's wars that Europe so mindlessly enabled. As the cost of being Washington's vassals comes home to Europeans, the standings of European political parties will be affected. New parties and ruling coalitions are likely to follow more independent paths in order to protect themselves from the costs of the enormous mistakes that flow from Washington's arrogance and hubris.

The breakup of the Empire is on the horizon.
Views: 1,161


Paul Craig Roberts
February 1, 2015
Robert Parry is one of my favorite columnists. He is truthful, has a sense of justice, and delivers a firm punch. He used to be a "mainstream journalist," like me, but we were too truthful for them. They kicked us out.
I can't say Parry has always been one of my favorite journalists. During the 1980s he spent a lot of time on Reagan's case. Having been on corporate boards, I know that CEOs seldom know everything that is going on in the company. There are just too many people and too many programs representing too many agendas. For presidents of countries with governments as large as the US government, there is far more going on than a president has time to learn about even if he could get accurate information.
In my day Assistant Secretaries and chiefs of staff were the most important people, because they controlled the flow of information. Presidents have to focus on fund raising for their reelection and for their party. More time and energy is used up with formalities and meetings with dignitaries and media events. At the most there are two or three issues on which a president can attempt leadership. If an organized clique such as the neoconservatives get into varied positions of authority, they can actually "create the reality" and take the government away from the president.
As I have reported on many occasions, my experience with Reagan left me with the conclusion that he was interested in two big issues. He wanted to stop the stagflation for which only the supply-side economists had a solution, and he wanted to end, not win, the cold war.
Both of these agendas put Reagan at odds with two of the most powerful of the private interest groups: Wall Street and the military/security complex.
Wall Street for the most part opposed Reagan's economic program. They opposed it because they understood it as Keynesian deficit pump-priming that would cause an already high inflation rate to explode, which would drive down bond and stock prices.
The CIA and the military opposed any ending of the Cold War because of the obvious impact on their power and budget.
Left-wing journalists never picked up on this, and neither did right-wing journalists.
The left could not get beyond Reagan's rhetoric. For the left, Reagan was trickle-down economics, Iran/Contra, and the fired air traffic controllers.
The right-wing liked Reagan's rhetoric and blamed him for not delivering on it.
For the left, the Reagan years were a traumatic time. Robert Parry has never recovered from them. He can scarcely write a column about events today, which are horrific in comparison, without dragging Reagan into it. Parry doesn't realize it, but if it is all Reagan's fault, little wonder it has been impossible to hold Clinton, Bush 1 and 2, and Obama accountable.
Having written these lines, I already detect the denunciations coming my way for again attempting to "rehabilitate Ronald Ray-Gun." Reagan does not need rehabilitating. This column is not about Reagan, and it is not a criticism of Parry. It is praise for Parry's column, "'Group-thinking' the World into a New War." https://consortiumnews.com/2015/01/30/group-thinking-the-world-into-a-new-war/ Read it.
The pattern since Milosevic (and before) has been to demonize a foreign head of state and to take the US to war to get rid of him. That way the secret agenda is achieved under the cover of the necessity of deposing a bad or dangerous ruler.
Parry describes this well. Group-Think plays the important role of preventing any dissent, any suspicion of the case against the demonized person, and any examination of the real agenda that is being pursued.
Now it is Russian President Vladimir Putin who is being demonized. As Parry and I and Stephen F. Cohen, the most knowledgeable of the Russian experts, appreciate, Putin is not Saddam Hussein and Russia is not Iraq, Libya, Syria, Serbia, or Iran. To foment conflict with Russia that could lead to war is worse than irresponsible. Yet, as Parry writes, "from the start of the Ukraine crisis in fall 2013, the New York Times, the Washington Post and virtually every mainstream U.S. news outlet have behaved as dishonestly as they did during the run-up to war with Iraq."
When Professor Cohen pointed out, correctly, that the lies about Russia, Ukraine, and Putin were hot and heavy, the propagandists had to get rid of the man with the facts. The New Republic, a hang-out for low IQ fools, called America's leading Russian expert "Putin's American toady."
From Parry's reporting, it appears that Group-Think has spread from the media and foreign policy community into the Association for Slavic, East European and Eurasian Studies, which has decided that academic careers require adherence to the government's propaganda line, which means the neoconservatives' line.
As I have written on a number of occasions, facts no longer play a role in American political life. Fact-based analysis is also disappearing from academic life and no longer plays a role in official economic reporting. A matrix has been created, an artificial reality that channels the energies and resources of the country into secret agendas that serve the interests of the ruling private interest groups and neoconservative ideology.
The United States government and the American people cannot contend with reality, because they do not know what the reality is.
In America's make-believe world, neoconservative toadies such as New York Times columnist Thomas Friedman, set the Group-Think tone, while knowledgeable experts such as Stephen Cohen are tuned out.
In effect, America is both blind and deaf. It lives in delusions. Consequently, it will destroy itself and perhaps the world.



Views: 1,536





By John W. Whitehead
September 15, 2014
rutherford.org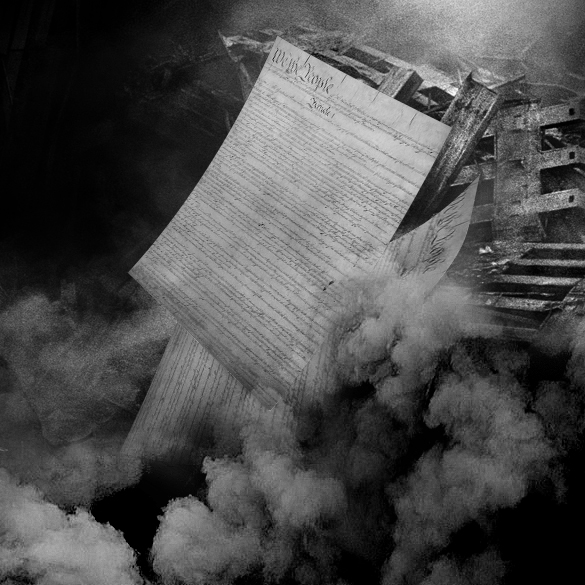 "I tell you, freedom and human rights in America are doomed. The U.S. government will lead the American people in — and the West in general — into an unbearable hell and a choking life."—Osama bin Laden (October 2001), as reported by CNN
What a strange and harrowing road we've walked since September 11, 2001, littered with the debris of our once-vaunted liberties. We have gone from a nation that took great pride in being a model of a representative democracy to being a model of how to persuade a freedom-loving people to march in lockstep with a police state.
What began with the passage of the USA Patriot Act in October 2001 has snowballed into the eradication of every vital safeguard against government overreach, corruption and abuse. Since then, we have been terrorized, traumatized, and tricked into a semi-permanent state of compliance. The bogeyman's names and faces change over time—Osama bin Laden, Saddam Hussein and now ISIS—but the end result remains the same: our unquestioning acquiescence to anything the government wants to do in exchange for the phantom promise of safety and security.
Ironically, just a short week after the 13th anniversary of the 9/11 attacks, we find ourselves commemorating the 227th anniversary of the ratification of our Constitution. Yet while there is much to mourn about the loss of our freedoms in the years since 9/11, there has been little to celebrate.
The Constitution has been steadily chipped away at, undermined, eroded, whittled down, and generally discarded to such an extent that what we are left with today is but a shadow of the robust document adopted more than two centuries ago. Most of the damage has been inflicted upon the Bill of Rights—the first ten amendments to the Constitution—which historically served as the bulwark from government abuse.
Set against a backdrop of government surveillance, militarized police, SWAT team raids, asset forfeiture, eminent domain, overcriminalization, armed surveillance drones, whole body scanners, stop and frisk searches, roving VIPR raids and the like—all sanctioned by Congress, the White House and the courts—a recitation of the Bill of Rights would understandably sound more like a eulogy to freedoms lost than an affirmation of rights we truly possess.
Views: 1,234


By Paul Craig Roberts
PaulCraigRoberts.org
September 1, 2014
Labor Day is a holiday that has outlived its time. Like Christmas, Labor Day has become a time-out period. As Christmas has become a shopping spree, Labor Day has become the last summer holiday.
The holiday originated in 1887 to celebrate the contribution made by American workers to the strength and prosperity of the United States. The first Monday in September was chosen by President Grover Cleveland to avoid a May date that would keep alive the memory of the previous year's Haymarket Massacre in which workers striking for an eight-hour day suffered casualties from the Chicago police.
As time passed union leadership became a career rather than a movement in behalf of a cause, but the labor movement in its initial years was reformist. It brought safer working conditions into industry and manufacturing. Unions served as a countervailing power and constrained the exploitative power of capital. An industrial or manufacturing job was a ladder of upward mobility that made the US an opportunity society and stabilized the socio-political system with a large middle class. A large and thriving industrial and manufacturing sector provided many white collar middle class jobs for managers, engineers, researchers and designers, and American universities flourished as did their graduates.
The labor unions provided the Democratic Party with a financial base in labor that served as a countervailing power to the Republican base in manufacturing and finance. Whether it was a plot or unintended consequence, jobs offshoring wrecked the industrial and manufacturing unions and destroyed the Democrats' independent financial base. The two-party system that had maintained a reasonable balance was transformed into a one-party system in which both parties were dependent on the same monied interests and thus answered to the same masters.
The consequence was the demise of the middle class and rise of the One Percent. Today the US has the most unequally distributed income and wealth of all developed economies and one of the worst in the entire world. Few Americans other than the One Percent have a stake in the American economic and political system.
Views: 876


By Paul Craig Roberts
August 18, 2014
paulcraigroberts.org

The Western media have proved for all to see that the Western media comprises either a collection of ignorant and incompetent fools or a whorehouse that sells war for money.
The Western media fell in step with Washington and blamed the downed Malaysian airliner on Russia. No evidence was provided. In its place the media used constant repetition. Washington withheld the evidence that proved that Kiev was responsible. The media's purpose was not to tell the truth, but to demonize Russia.
Now we have the media story of the armored Russian column that allegedly crossed into Ukraine and was destroyed by Ukraine's rag-tag forces that ISIS would eliminate in a few minutes. British reporters fabricated this story or were handed it by a CIA operative working to build a war narrative. The disreputable BBC hyped the story without investigating. The German media, including Die Welt, blared the story throughout Germany without concern at the absence of any evidence. Reuters news agency, also with no investigation, spread the story. Readers tell me that CNN has been broadcasting the fake story 24/7. Although I cannot stand to watch it, I suspect Fox "news" has also been riding this lame horse hard. Readers tell me that my former newspaper, The Wall Street Journal, which has fallen so low as to be unreadable, also spread the false story. I hope they are wrong. One hates to see the complete despoliation of one's former habitat.
The media story is preposterous for a number of reasons that should be obvious to a normal person.
The first reason is that the Russian government has made it completely clear that its purpose is to de-escalate the situation. When other former Russian territories that are part of present day Ukraine followed Crimea, voted their independence and requested reunification with Russia, President Putin refused. To underline his de-escalation, President Putin asked the Russian Duma to rescind his authority to intervene militarily in Ukraine in behalf of the former Russian provinces. As the Russian government, unlike Washington or EU governments, stresses legality and the rule of law, Russian military forces would not be sent into Ukraine prior to the Duma renewing Putin's authority so to do.
Views: 5,548


By Paul Craig Roberts
PaulCraigRoberts.org
October 29, 2013
To inform people is hard slugging. Everything is lined up against the public being informed, or the policymakers for that matter. News is contaminated by its service to special interests and hidden agendas. Many scientists or their employers are dependent on federal money. Even psychologists and anthropologists were roped into the government's torture and occupation programs. Economists tell lies for corporations and Wall Street. Plant and soil scientists tell lies for agribusiness and Monsanto. Truth tellers are slandered and persecuted. However, persistence can eventually win out. In the long-run, truth sometimes emerges. But not always. And not always in time.

I have been trying to inform the American people, economists, and policymakers for more than a decade about the adverse impacts of jobs offshoring on the US economy. The word has eventually gotten out. Last week I was contacted by 8th grade students competing for their school in CSPAN's StudentCam Documentary Contest. They want to interview me on the subject of jobs offshoring for their documentary film.
America is a strange place. Here are eighth graders far ahead of the economics profession, the President, the Congress, the Federal Reserve, Wall Street, and the financial press in their understanding of one of the fundamental problems of the US economy. Yet, people say the public schools are failing. Obviously, not the one whose students contacted me.
Is it too late? I know much, but not all. So this is not the final word. I think it might be too late. When skilled jobs are sent abroad, the skills disappear at home. So do the supply chains and the businesses associated with the skills. Things close down, and abilities are lost. Why take a major in collage for a job that is offshored. A culture disappears.
Views: 1,136


By Paul Craig Roberts
August 31, 2013
PaulCraigRoberts.org
A foolish President Obama and moronic Secretary of State Kerry have handed the United States government its worst diplomatic defeat in history and destroyed the credibility of the Office of the President, the Department of State, and the entire executive branch. All are exposed as a collection of third-rate liars.
Intoxicated with hubris from past successful lies and deceptions used to destroy Iraq and Libya, Obama thought the US "superpower," the "exceptional" and "indispensable" country, could pull it off again, this time in Syria.
But the rest of the world has learned to avoid Washington's rush to war when there is no evidence. A foolish Obama was pushed far out on the limb by an incompetent and untrustworthy National Security Advisor, Susan Rice, and the pack of neoconservatives that support her, and the British Parliament cut the limb off.
What kind of fool would put himself in that vulnerable position?



Views: 2,398





In this nation, we have been ingrained with the notion that ordinary everyday Black, White, Brown, Red, and Yellow people have genuine representative government because we have the right to vote. Yet, elected officials have repeatedly simply lied to the electorate, and once they have been voted into office, proceeded to violate the trust of those who voted for them. Unfortunately, this is not a new or even an unusual phenomenon.






Views: 9,302





By Paul Craig Roberts
May 23, 2013
PaulCraigRobers.org



Have you ever wondered how the government's misinformation gains traction?

What I have noticed is that whenever a stunning episode occurs, such as 9/11 or the Boston Marathon bombing, most everyone whether on the right or left goes along with the government's explanation, because they can hook their agenda to the government's account.

The leftwing likes the official stories of Muslims creating terrorist mayhem in America, because it proves their blowback theory and satisfies them that the dispossessed and oppressed can fight back against imperialism.

The patriotic rightwing likes the official story, because it proves America is attacked for its goodness or because terrorists were allowed in by immigration authorities and nurtured by welfare, or because the government, which can't do anything right, ignored plentiful warnings.

Whatever the government says, no matter how problematical, the official story gets its traction from its compatibility with existing predispositions and agendas.

In such a country, truth has no relevance. Only agendas are important.

A person can see this everywhere. I could write volumes illustrating how agenda-driven writers across the spectrum will support the most improbable government stories despite the absence of any evidence simply because the government's line can be used to support their agendas.

For example, a conservative writer in the June issue of Chronicles uses the government's story about the alleged Boston Marathon bombers, Dzhokhar and Tamerlan Tsarnaev, to argue against immigration, amnesty for illegals, and political asylum for Muslims. He writes: "Even the most high-tech security systems imaginable will inevitably fail as they are overwhelmed by a flood of often hostile and dangerous immigrants."

The writer accepts all of the improbable government statements as proof that the brothers were guilty. The wounded brother who was unable to respond to the boat owner who discovered him and had to be put on life support somehow managed to write a confession on the inside of the boat.

As soon as the authorities have the brother locked up in a hospital on life support, "unnamed officials" and "authorities who remain anonymous" are planting the story in the media that the suspect is signing written confessions of his guilt while on life support. No one has seen any of these written confessions. But we know that they exist, because the government and media say so.
Please Make A One Time Donation
You can send a check
or money order to:
The KTAO Project
P.O. Box 1086
Crestone, CO 81131
or donate online:

Essential Reading
Declaration of Independence
The Constitution
The Bill of Rights
Citizen's Jury Handbook