Campaign Video
and you'll receive our popular
newsletter with latest news,
videos, commentary & more.
Help Us Spread The Word!
---

HELP US GO VIRAL!!!!
We no longer have the
luxury of time.


---
Who's Online
Guest Users: 16
Contact Us
email us
P.O. Box 1086
Crestone, CO 81131
---
---
---
---
---
---
Be a courageous
American and
inspire others to
take a stand by
signing the Pledge to VOTE
OUT ALL INCUMBENTS! PLEDGE TO NEVER REELECT!
Download the Free Uncle
Sam Poster
and hand them
out EVERYWHERE
NEW Campaign Business Cards
Download here!

Site Navigation
---
---
Home Page
Project Directory
Top Stories
Latest News
Site Help
Full Story Archives
---
---

Interviews
KTAO Organization Info
Project Info Only Index
5 Minute Audio Summary
Radio Interview
Nutshell Project Summary
Simple Two Step Plan
Full Project Summary
FAQs
Promo Videos
FREE Uncle Sam Poster
Banner Ads
Join or Start A Meetup Group
Media Inquiries
All Federal Incumbents
All State Incumbents
Kickem Community Forum
Take the KTAO Pledge
What People Are Saying
Bumper Stickers & More
Please Donate
---
It's Time To Listen
To Your Elders!
Views: 8,018


Posted May 10, 2015



Our real enemies are not those living in a distant land whose names or policies we don't understand; The real enemy is a system that wages war when it's profitable, the CEOs who lay us off our jobs when it's profitable, the Insurance Companies who deny us Health care when it's profitable, the Banks who take away our homes when it's profitable. Our enemies are not several hundred thousands away. They are right here in front of us - Mike Prysner




Views: 1,169





June 18, 2014

Iraq is descending into chaos, but not for the reasons you're being fed by the politicians and the mainstream media.





Views: 1,816





Washington's Blog
September 8, 2013


Classified Syria Intelligence Fails to Prove Assad Used Chemical Weapons
The administration's public case for chemical weapons use by the Syrian government is extremely weak, and former high-level intelligence officers say that publicly-available information proves that the Syrian government likely did not carry out the chemical weapons attacks.
The Obama administration claims that classified intelligence proves that it was the Assad government which carried out the attacks.
But numerous congressional members who have seen the classified intelligence information say that it is no better than the public war brief … and doesn't prove anything.
Congressman Justin Amash said last week:
What I heard in Obama admn briefing actually makes me more skeptical of certain significant aspects of Pres's case for attacking
He noted yesterday, after attending another classified briefing and reviewing more classified materials:
Attended another classified briefing on #Syria & reviewed add'l materials. Now more skeptical than ever. Can't believe Pres is pushing war.
And today, Amash wrote:
If Americans could read classified docs, they'd be even more against #Syria action. Obama admn's public statements are misleading at best.
Congressman Tom Harkin said:
I have just attended a classified Congressional briefing on Syria that quite frankly raised more questions than it answered. I found the evidence presented by Administration officials to be circumstantial.
Congressman Michael Burgess said:
Yes, I saw the classified documents. They were pretty thin.
Yahoo News reports:
New Hampshire Democratic Rep. Carol Shea-Porter, for instance, left Thursday's classified hearing and said she was opposed to the effort "now so more than ever."

"I think there's a long way to go for the president to make the case," she said after the briefing. "It does seem there is a high degree of concern and leaning no."



Views: 2,851





Nobel Peace Prize laureate, Mairead Maguire tells her account of her visit to Syria. While Maguire was in Syria she discovered that the people the U.S. are funding are violent groups and do not want peace in Syria. Her view is that Syria is being used as a proxy war by the U.S., Great Britain, Saudi Arabia and Qatar.


Views: 2,541


Rebels and local residents in Ghouta accuse Saudi Prince Bandar bin Sultan of providing chemical weapons to an al-Qaida linked rebel group.


This article is a collaboration between Dale Gavlak reporting for Mint Press News (also of the Associated Press) and Yahya Ababneh.
Ghouta, Syria — As the machinery for a U.S.-led military intervention in Syria gathers pace following last week's chemical weapons attack, the U.S. and its allies may be targeting the wrong culprit.
Interviews with people in Damascus and Ghouta, a suburb of the Syrian capital, where the humanitarian agency Doctors Without Borders said at least 355 people had died last week from what it believed to be a neurotoxic agent, appear to indicate as much.
The U.S., Britain, and France as well as the Arab League have accused the regime of Syrian President Bashar al-Assad for carrying out the chemical weapons attack, which mainly targeted civilians. U.S. warships are stationed in the Mediterranean Sea to launch military strikes against Syria in punishment for carrying out a massive chemical weapons attack. The U.S. and others are not interested in examining any contrary evidence, with U.S Secretary of State John Kerry saying Monday that Assad's guilt was "a judgment … already clear to the world."
Views: 2,230



In Syria's Civil War Is How We Started
It
(SEE: Kerry: Use of chemical weapons in Syria "a moral obscenity" )
Which is the greater moral obscenity? The fact that more than three-hundred civilians have been killed by chemical weapons, or the undeniable fact that over 100,000 Syrians have been killed by various means (most of them civilians), in a premeditated plan to create civil war in another sovereign nation? (SEE: The Obscenity of Humanitarian Warfare). The American Sec. of State is invoking moral outrage to justify further escalation of our interference in Syrian national affairs, to the point of committing Western troops in an actual physical aggression against Syria and the Syrian people.
If there was a place in American government or international humanitarian institutions for "morality," or "fairness," or "justice," then all of these august bodies would presently be overwhelmed with ongoing investigations of American war crimes and crimes against humanity, instead of vacuously, deceptively, deliberating military strikes upon the people, who dare to resist American aggression. Cruise missile, or other air strikes to cripple the defenses of the Assad government, can only lead to intensified suffering and death for the civilians of Syria, as secular terrorists battle "Islamist" terrorists for control of whatever is left, this mini-civil war promised to follow within Syria, after Western attacks successfully ignite region-wide civil war.
This is NOT a "religious civil war," as the Western media have erroneously mislabeled the Syrian civil war, misleading its viewers into parroting their manufactured lies about "Islam" around the "water coolers" and gossipy "grape vines," as the American sheep go about their day in oblivious ignorance. The idea that this is a religious war is misinformation, manufactured by the palace of lies in Langley. This is clearly an Imperial war of aggression, directed at every nation in the Middle East (then against the entire world), A WAR AGAINST CIVILIANS.
Views: 2,928


By Tony Cartalucci
Prisonplanet.com
Dec 12, 2012
As expected, after a long pause of feigned "consideration," the US has recognized the militants it has been arming, funding, aiding logistically and supporting diplomatically since as early as 2007, as the "legitimate representatives of the Syrian people," with the added caveat, "in opposition to the Assad regime." The Wall Street Journal would report that US President Barack Obama's announcement actually read:
"The Syrian National Coalition for Revolutionary and Opposition Forces is reflective and representative enough of the Syrian population that we consider them the legitimate representative of the Syrian people in opposition to the Assad regime."
The bizarre, uncertain wording sends a message of both uncertainty and resounding illegitimacy, indicating that the US itself recognizes the true nature of the so-called "Syrian" opposition is apparent to an increasing number of people both in public office and across the public, and that a certain degree of rhetorical distance must be kept.
The overt, extremist nature of the militants operating in Syria has become increasingly difficult for the West to paper over. Torrents of videos and confirmed reports documenting militant atrocities, including several involving the machine gunning of bound prisoners, and a particularly gruesome video of a child handed a sword by militants to hack off the heads of bound men wearing civilian clothing, has confirmed the worst fears expressed by geopolitical analysts and foreign governments around the world – that the Syrian opposition is in fact Al Qaeda.
Views: 1,651


By Tony Cartalucci
Prisonplanet.com
March 17, 2012
Over the past week, as Invisible Children and their corporate sponsors performed desperate damage control, ties between the alleged "charity" and the US State Department, Wall Street speculator George Soros and his Open Society Institute, and a myriad of corporate-funded foundations began surfacing and spreading just as quickly as their documentary Kony 2012 rose to fame.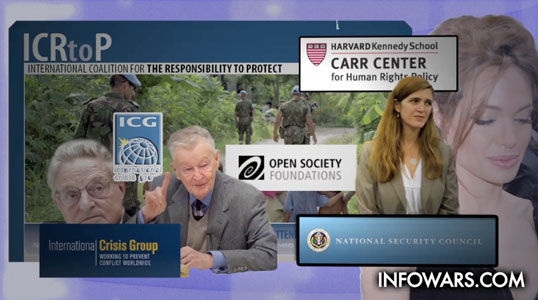 Image: (via Infowars) A visual representation of Invisible Children's true backers and master minds. They will gladly shed their front group in the name of self-preservation and making a clean escape.
….
Perhaps most importantly, the term AFRICOM began gaining wider notoriety as did the mission of AFRICOM - the neo-colonial plundering of all of Africa. And as this single backfiring propaganda stunt threatened to unhinge a continent-spanning corporate-military industrial campaign, the plug was abruptly pulled with news of Invisible Children's director Jason Russell being arrested for lewd behavior in public.
Views: 1,732


The Juice Media
You Tube
March 14, 2012
COMMENT: Clearly, many people of all political stripes are seeing through the hoax put forward by KONY 2012 to legitimize another grand military adventure, now in Africa under AFRICOM.
Rap News Episode 12: YES WE KONY. It's March, and the Internet delivers 2012′s first globe-consuming meme: the unstoppable, Stop-Kony 2012 video, which has highlighted the plight of African child soldiering like never before. But is it really good? Is it really bad? Or is the world really more complex than 'good guys' and 'bad guys'?
Views: 1,542


US is preparing to "commit guerrilla attacks, assassination campaigns" to topple Assad
By Paul Joseph Watson
Prison Planet.com
March 6, 2012
A shocking email leaked as part of the Wikileaks Stratfor data dump reveals that the Pentagon is planning to direct terror attacks and assassinations inside Syria in a bid to topple President President Bashar al-Assad.
The email, written by Reva Bhalla, Stratfor's Director of Analysis, contains details of a December 6 Pentagon meeting attended by members of the USAF strategic studies group along with four military officers at the Lieutenant Colonel level, "including one French and one British representative."
Bhalla was told by the military officials that, despite official claims to the contrary, foreign troops from NATO powers were already on the ground in Syria.
"After a couple hours of talking, they said without saying that SOF teams (presumably from US, UK, France, Jordan, Turkey) are already on the ground focused on recce [reconnaissance] missions and training opposition forces," states the email.
Bhalla goes on to describe how the mission of the undercover commandoes is hypothetically to "commit guerrilla attacks, assassination campaigns, try to break the back of the Alawite forces [Assad's support base], elicit collapse from within."
Please Make A One Time Donation
You can send a check
or money order to:
The KTAO Project
P.O. Box 1086
Crestone, CO 81131
or donate online:

Essential Reading
Declaration of Independence
The Constitution
The Bill of Rights
Citizen's Jury Handbook